Here in the Greenville area, you can rely on our team at American Waste Septic for septic pumping and a variety of other services.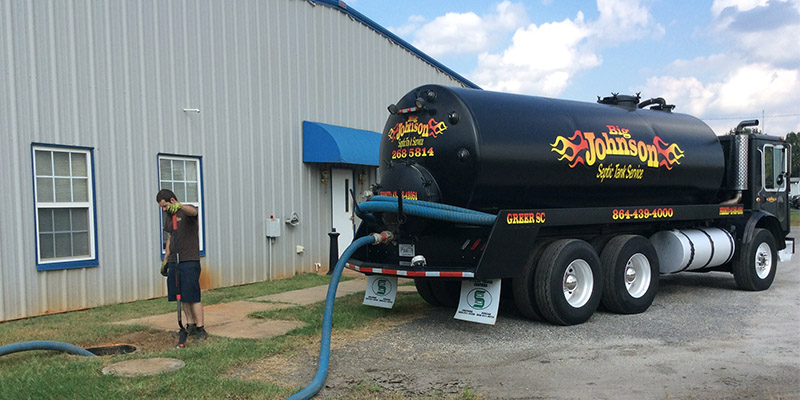 When you have a septic system on your property in Greenville, you probably know the basic rules, including what you can and can't flush and signs to watch for that indicate a problem. However, many people overlook one of the most important aspects of ownership: septic pumping. Unfortunately, putting off this important service can lead to unexpected septic emergencies that you would much rather avoid.
Maybe you abide by the philosophy, "if it isn't broken, don't fix it", or maybe you just forget to keep up with the routine maintenance. But septic pumping and other maintenance services should not be overlooked. Without proper maintenance, your septic tank will become overloaded and is likely to back up and/or leak into your yard, or even worse, into your home or business. This is a messy and unpleasant situation that is never fun to deal with, but you can avoid it by having maintenance done regularly.
At American Waste Septic, we recommend septic pumping at least once every 3-5 years. If you have a smaller septic tank or a commercial building with higher usage, you may need to schedule septic pumping more often. If you aren't sure about the frequency with which you should schedule septic pumping at your home or business in Greenville, South Carolina, our technicians can easily provide recommendations that make it easier to keep up with important servicing.
The process of septic pumping involves using a special truck that has a vacuum to remove any solid waste and sludge that stays behind in your tank. This allows your system to essentially start fresh, clearing out space for liquid and solid waste to move through it freely. During a septic pumping service, your technician should also provide a septic inspection that will ensure your tank and the surrounding components are in good shape and don't need repairs or replacement. Determining early on whether your septic system needs attention is the best way to prevent unexpected mishaps down the line – not to mention securing your own peace of mind.
If you have trouble remembering how often to schedule septic pumping at your home or business, there are a few quick tools you can apply to aid in this process. Asking your septic contractor for a business card with the date of your next appointment can help, as well as adding the future date to your calendar each time you have a septic professional come to provide a service. Taking small steps to keep this service on your radar will ensure your septic system remains in great condition for many years to come.
Here in the Greenville, South Carolina area, you can rely on our team at American Waste Septic for septic pumping and a variety of other services. We will clean out and pump your tank regularly, helping you avoid the problems that can come along with septic system ownership. If you need to schedule septic pumping at your home or business, or if you have questions about the condition of your septic tank, contact us today.
---
At American Waste Septic, we offer septic pumping services in Greenville County, including Greenville, Simpsonville, Mauldin, Travelers Rest, Cherrydale, Taylors, Powdersville, Easley, Fountain Inn, Belton, Williamston, Cleveland, Marietta, Pumpkintown, Jones Gap, Pickens, Greer, Taylors, West Spartanburg, Lyman, Inman, and Woodruff, as well as Spartanburg County, including Moore, Duncan, Lyman, Spartanburg, Reidville, Wellford, and Inman, South Carolina.